Ceramics for Bonsai
BONSAI POTS GUIDE
BONSAI POTS
Bonsai pots are one of the most important elements in creating a beautiful bonsai display. Choosing the correct pot can enhance the tree by complementing or contrasting features within the bonsai. For example, by selecting a bonsai pot with soft lines and a grey color, the sinuous trunk movement in an informal upright style Pine bonsai, as well as the grey bark of the tree are complemented and made more prominent. There are a number of famous periods and makers of bonsai pots, from old China to the modern west, that should be studied as you progress in your bonsai education. Here, we will take a look at just a handful of prominent examples.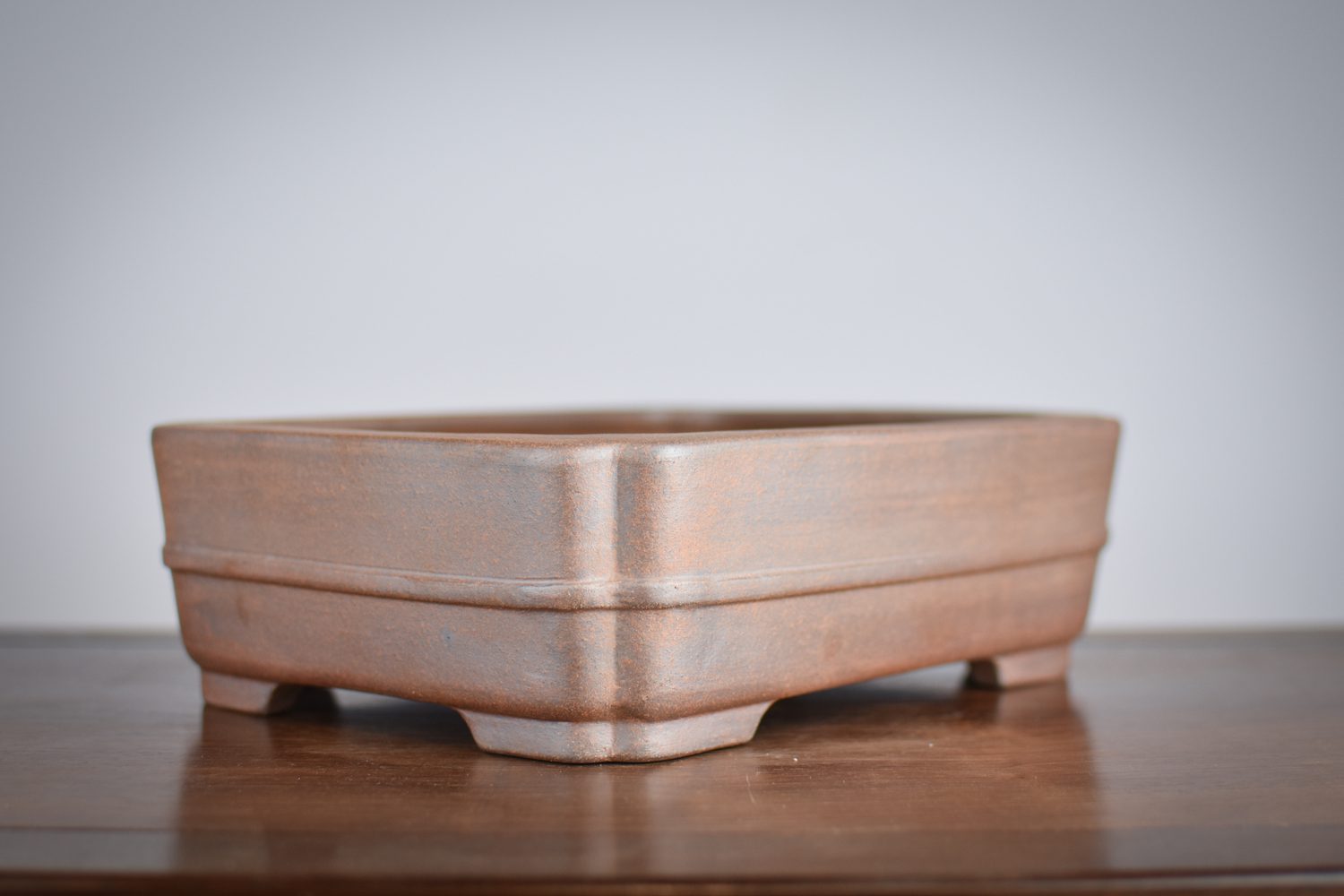 TOKONAME
Tokoname bonsai pots are those that are produced in the Tokoname area of Japan. Located in central Honshu, Japan not far from Nagoya, Tokoname is well-known for producing ceramics of all sorts, from roof tiles to toilets to bonsai pots. What makes Tokoname Pots so sought-after is the type of clay found in that region, which has a purplish hue and is soft in texture, as well as the craftsmanship the makers in Tokoname put into each pot. For example, the unglazed rectangular pot by the maker Reiho featured here is a prime example of the smooth, purplish clay utilized to build a near perfect pot with straight edges and ideal proportions for use with a bonsai tree.
KOWATARI BONSAI POTS (Pre-1800 CE)
Kowatari bonsai pots are those that were made in China prior to the year 1800 CE. While these ceramics come from many locations throughout China, the most commonly found Kowatari pots originate from the Yixing (near Shanghai) and Cochin (south China or northern Vietnam) areas. It became popular in the 1970s and 1980s to import these pots from China to Japan to utilize with bonsai at the Kokufu-ten Japanese National Bonsai Exhibition. Today, many of the Kowatari pots imported to Japan decades ago are being repatriated back to China as wealthy Chinese collectors repurchase them. Common Kowatari colors are shudei, shidei, shirokochi and namako, among many others.
NAKAWATARI BONSAI POTS (1800-1911 CE)
Nakawatari bonsai pots are those produced in China between the years 1800-1911 CE. The term Nakawatari translates to middle-crossing, referring to the period in which the pots were produced and many of which were imported to Japan (however, a majority of these ceramics were imported to Japan in the 1970s and 80s). Nakawatari pots are utilized with both conifers and broadleaf species and are typically characterized by having a rounded underside and narrow dimensions from front to back. These bonsai pots are best used for older trees going into an exhibition. Common Nakawatari colors are shudei, shidei, shirokochi, aokochi and namako, among many others.
MODERN CHINESE POTS (Post-WWII)
Modern Chinese bonsai pots have gotten a bad rap in recent decades due to their perceived poor quality and mass-production craftsmanship. However, it should be noted that a majority of these pots are produced in the Yixing area of China, just outside of Shanghai, where in fact there are dozens of kilns of various quality levels. Yixing clay is known for its purplish hue and smooth texture, similar to that of Japanese Tokoname bonsai pots. Many of our bonsai at Eisei-en are maintained in modern, higher-quality Yixing-ware pots, such as the Scots Pine featured here.
AMERICAN BONSAI POTS
In the last two decades, as bonsai has become more popular in the United States, there has been an increased demand for quality American-made bonsai pots. Building on the traditions of Japanese and Chinese ceramics, American potters have expanded the notion of what constitutes a bonsai pot, experimenting with unique colors, shapes and textures. Today, there are a number of excellent US-based bonsai potters including Sara Rayner, Byron Myrick, Stacy Allen Muse and Roy Minarai. The tree featured here is a Japanese Snowbell planted in a Roy Minarai bonsai pot.
EUROPEAN BONSAI POTS
European bonsai potters have been building on the traditions of Japan as well, utilizing local clays, glazes and cultural motifs to create some of the most unique bonsai pots in the world. Each country's culture is, in some way, reflected in the respective bonsai pots created within each region. Some of our favorite European potters include Fukurou Ceramics (Switzerland), Stonemonkey pots (England) and Fanda Ceramics (Czech Republic). The pot featured here is a mushikui or worm-eaten pot by Stonemonkey Ceramics.